19 Sep

A stitch in time saves 90% Osteoarthritis Cases
Alarming Facts on Arthritis
OA is the causing diagnosis for more than 90% of the total hip or knee joint replacement operations being done worldwide. 1
Worldwide, osteoarthritis (OA) is estimated to be the 4 th leading cause of disability. 1
Prevalence of OA in India ranges from 17-60.6%. 2
Prevalence of OA increases with age and generally affects women more.
In 2008, India was ranked one of the TOP 2 countries in the absolute number of people aged 65 and over ( 60 million). 3 Therefore in 2008–2040, there will be an estimated increase in the proportion of people aged 65 and over by 274%. 1
…ACT EARLY…ACT NOW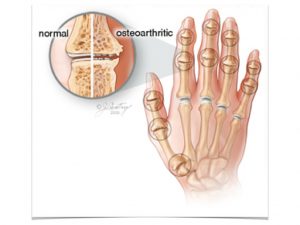 OA is a painful condition caused by a gradual loss of cartilage from the joints and, in some people, joint inflammation. Arthritis can affect almost any joint, although it occurs most frequently in the hands, knees, hips, and spine. Osteoarthritis is a chronic, highly prevalent and disabling disease that is expected to increase in prevalence secondary to longer life expectancy and a disproportionately aging population.
Warning signs of OA
 Joint pain
 Stiffness in a joint after getting out of bed or sitting for a long time
 Swelling in one or more joints
 Crunching feeling or the sound of bone rubbing on bone
4 goals of OA treatment
1. To control pain
2. To improve joint function
3. To maintain normal body weight
4. To achieve a healthy lifestyle
Treatment approaches to Osteoarthritis
 Exercise
 Weight control
 Rest and relief from stress on joints
 Medications like pain relievers, intra-articular steroids or topical NSAIDs and analgesics
 Nutraceuticals like glucosamine, chrondroitin, methyl sulfonylmethane (MSM), curcumin which are the building blocks for cartilage and have a positive effect on cartilage and arthritis
What is the need to take nutraceuticals for osteoarthritis?
Many people with arthritis, especially osteoarthritis use nutraceuticals to ease the pain of arthritis. Significant improvements in pain, function and structural outcomes have been shown with nutraceuticals. Glucosamine and chondroitin are the most well-known and best-tested. Methyl sulfonylmethane (MSM) is another supplement used to ease the pain of arthritis.
Given the high prevalence and rate of disability from OA, the good efficacy and safety profile of nutraceuticals and their benefits gives reason to arthritic patients to take these products resulting in better quality of life.
Glucosamine & Chondroitin
Both these agents are produced endogenously in the human body and are essential components of cartilage. Glucosamine is an efficacious chondroprotective agent. Glucosamine and chondroitin sulfate have the potential to provide pain-relieving benefits as well as possibly decrease the effects of joint space narrowing. 4 These supplements may serve a role as an initial treatment option for many OA patients. 5
Significant improvement in pain and functional ability and a decrease in the loss of joint space width have been medically proven with glucoamine. 6
Patients taking chondroitin sulfate were noted to have a statistically significant improvement in knee joint swelling. 7
Another study reveals: Continuous administration of Glucosamine for up to 3 years resulted in significant reduction in the progression of joint structure changes …decreasing the risk of undergoing total joint replacement in the follow up of patients receiving glucosamine for at least 12 months. 8
Methyl sulfonylmethane (MSM)
Methylsulfonylmethane (MSM) is an effective natural analgesic and anti-inflammatory agent.
Patients with OA of the knee taking MSM for 12 weeks showed an improvement in pain and physical function. 9
Another medical report states that ….Taking MSM for 13 weeks decreased degeneration of the cartilage at the joint surface in the knee joints. 10
MSM with Glucosamine provides better and more rapid improvement in patients with osteoarthritis. Together they produced an analgesic (pain relieving) and anti-inflammatory effect in osteoarthritis. This combination reduces pain and swelling and improves the functional ability of joints. 11
Curcumin
Is the principal biochemical component of the spice turmeric and has been shown to possess potent anti-inflammatory and antioxidant, properties. It protects the chondrocytes (cells found in healthy cartilage) and may be a beneficial complementary treatment for OA. 12
Living & Managing arthritis:
5 SIMPLE TIPS
1. Recognize early symptoms of osteoarthritis
2. Exercise to help decrease pain
3. Eat healthily and maintain ideal weight
4. Try relaxation and distraction to ease the pain
5. Be regular with your treatment plan
This article has been written by Liselle D'souza, a Mumbai based Medical Content writer. Liselle has over two decades of experience in pharmaceuticals and the healthcare industry and has worked in leading healthcare companies like UCB Pharma, Glenmark and others. She can be contacted on ldsouza.ms@gmail.com
References
1. Marlene Fransen, Lisa Ransen, Lisa Bridgett, Lyn March, Damian Hoy, Ester Penserga,
Peter Brooks, The epidemiology of osteoarthritis in Asia, International Journal of Rheumatic
Diseases 2011; 14: 113–121.
2. Chanda Kulkarni, A. Leena, K. Lohit, Devesh Mishra, and M. J. Saji, A randomized
comparative study of safety and efficacy of immediate release glucosamine HCL and
glucosamine HCL sustained release formulation in the treatment of knee osteoarthritis: A
proof of concept study, J Pharmacol Pharmacother. 2012 Jan-Mar; 3(1): 48–54.
3. Kinsella K, He W (2009) An Ageing World: 2008. U.S. Census Bureau, Washington, DC
4. Martin MS, Van Sell S, Danter J.Glucosamine and chondroitin: an appropriate adjunct
treatment of symptomatic osteoarthritis of the knee.Orthop Nurs. 2012 May-Jun;31(3):160-6.
doi: 10.1097/NOR.0b013e3182558cf5.
5. Huskisson EC. Glucosamine and chondroitin for osteoarthritis.J Int Med Res. 2008 Nov-
Dec;36(6):1161-79.
6. Ragle RL, Sawitzke AD. Nutraceuticals in the management of osteoarthritis : a critical review.
Drugs Aging. 2012 Sep;29(9):717-31.
7. Hochberg MC, Clegg DO. Potential effects of chondroitin sulfate on joint swelling: a GAIT
report. Osteoarthritis Cartilage. 2008;16 Suppl 3:S22-4. doi: 10.1016/j.joca.2008.06.024.
Epub 2008 Sep 2.
8. Rovati LC, Girolami F, Persiani S. Crystalline glucosamine sulfate in the management of
knee osteoarthritis: efficacy, safety, and pharmacokinetic properties. Ther Adv Musculoskelet
Dis. 2012 Jun;4(3):167-80. doi: 10.1177/1759720X12437753.
9. Debbi EM, Agar G, Fichman G, Ziv YB, Kardosh R, Halperin N, Elbaz A, Beer Y, Debi R.
Efficacy of methylsulfonylmethane supplementation on osteoarthritis of the knee: a
randomized controlled study. BMC Complement Altern Med. 2011 Jun 27;11:50. doi:
10.1186/1472-6882-11-50.
10. Ezaki J, Hashimoto M, Hosokawa Y, Ishimi Y.Assessment of safety and efficacy of
methylsulfonylmethane on bone and knee joints in osteoarthritis animal model. J Bone Miner
Metab. 2013 Jan;31(1):16-25. doi: 10.1007/s00774-012-0378-9. Epub 2012 Aug 10.
11. Usha PR, Naidu MU. Randomised, Double-Blind, Parallel, Placebo-Controlled Study of Oral
Glucosamine, Methylsulfonylmethane and their Combination in Osteoarthritis. Clin Drug
Investig. 2004;24(6):353-63.
12. Henrotin Y, Clutterbuck AL, Allaway D, Lodwig EM, Harris P, Mathy-Hartert M, Shakibaei M,
Mobasheri A. Biological actions of curcumin on articular chondrocytes. Osteoarthritis
Cartilage. 2010 Feb;18(2):141-9. doi: 10.1016/j.joca.2009.10.002. Epub 2009 Oct 8.