25 Oct

Chronic Low Back Pain

Chronic low back pain is ….

Low back pain which has been present for longer than three months.

Chronic low back pain may be due to
Injury to structures of the back such as bones, muscles, ligaments, joints, nerves or the spinal cord.
Disease of the structures of the back.
Type of pain felt in chronic low back pain
Aching, burning, stabbing or tingling, sharp or dull, and well-defined or vague.
Chronic low back pain diagnosis
Clinical examination
X ray of back
Specialized investigations ( CT scan or MRI) if required
Various treatment options available for treating low back pain
Physical therapy: A variety of stretching and strengthening exercises to strengthen back muscles , manual therapies and modalities (ice, heat, transcutaneous electrical nerve stimulation [TENS], ultrasound), medications
Coping skills
Procedures
Consequences of not treating the chronic low back pain
Limping while walking
Difficulty in prolonged sitting
Inability to carry on day to day chores
Psychologically it will cause depression  and anxiety
Life style modifications to treat low back pain
I) Guidelines for activity include:
Do not bend or twist your back.
Do not lift heavy objects. Use your knees rather than your back for leverage even for lighter items.
When lifting, squat down next to the object, hold the object close to your chest, maintain a straight back, and use your leg muscles to slowly rise.
Plan ahead and ask for assistance with lifting or moving heavy objects.
Avoid sitting for long periods. When you do sit, choose seats with good lumbar support.
Avoid standing for long periods. If you need to stand, place a low footstool in front of you and alternate placing each foot on it for a period of time.
Consider job retraining if your work requires a lot of heavy lifting or sitting. Ask  your company for someone who specializes in helping redesign your workplace for the restrictions an individual with back pain requires.
II) Practice Good Posture
Poor posture and slouching can put more pressure on the lower back.
Hence stand and sit straight, and avoid sitting up in bed.
Graphic images denoting Do's and Don'ts for low back pain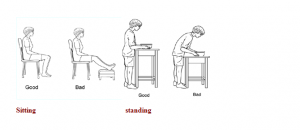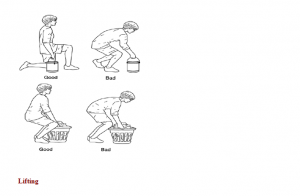 III) Follow a Home Exercise Program
Exercises to stretch and strengthen back and stomach muscles should be performed on a daily basis.
A low-impact aerobic program will further improve the physical fitness and helps to maintain a healthy weight.
Exercise must be done about 30 minutes a day, 5 to 7 times a week. Activities that are "back-friendly" include walking, swimming, or biking.
IV) Lose extra Weight
Extra pounds increase pressure on the spinal muscles and disks. Hence it is crucial for over weight individuals to lose weight in order to avoid pressure on the spine.
V) Quit smoking
Smoking causes degeneration of the discs in the spine.
Smokers risk possible re-injury to the back during a coughing attack.
Manage Stress
Stress can increase muscle tension. Take time out to relax, exercise, and practice relaxation techniques one may want to try some of the following  relaxation techniques:
Breathing exercises       Meditation                                        Yoga
Modify Your Environment
Certain changes to the workspace, attire, and home can reduce the stress on the back.
Tips include:
Don't wear high-heeled shoes.
In case one has to sit for long periods of time, use a stool to bring the knees above the  hips.
Use a lumbar support pillow when sitting or driving.
Sleep on a firm mattress and don't sleep on the stomach.
Sleep on the side or on the back with a wedge or pillow under the lower part of the  legs.

Dos and Don'ts for low back pain
Do's
Don'ts

 

Sitting
·         Sit as little as possible and then only for short periods.

·         Place a supportive towel roll at the belt line of the back especially when sitting in the car

·         When getting up from sitting, keep

the normal curves in your back.

·         Move to the front of the seat and

stand up by straightening your legs.

·         Avoid bending forward at the waist.

·         Try to keep the normal curves in your back at all times. DELETE

 

Do not sit on a low soft couch with a deep seat. It will force you to sit

with your hips lower than your knees and will round your back. You

will loose the normal curve in your back.

Do not place your legs straight out in front of you while sitting. (e.g. sitting in the bath tub

 

Standing
·         If you must stand for a long period of time keep one leg up on a foot stool.

·         Adapt work heights DELETE

·         Avoid half bent positions.
Lifting  DELETE
·         Avoid lifting altogether if you can

·         Use the correct lifting technique.

·         Keep your back straight when lifting.

·         Never stoop or bend when lifting
Lying
Sleep on a good firm surface.

If your bed sags, use slats or plywood supports between the mattress and base to firm it. You also can place the mattress on the floor, a simple but temporary solution.

You may be more comfortable at night when you use a supportive

roll like a rolled up towel behind your waist .

·         Do not sleep on your stomach.
3 vital roles of Calcium supplements for low back pain
·         Calcium supplements increase the bone density and prevents the spine degeneration.
·         Calcium prevents the low back muscle weakness and thus relieves the aches and pain associated with the strain muscles of the back.
·         Calcium also prevents bone fractures by strengthening bones, joint inflammation, joint pain, which are known to be the common causes for low back pain.
Low Back Pain Supplement Brands in India
Most of the recommended brands by the doctor:
More known brands:
| | |
| --- | --- |
| ULTRACET | JANSSEN |
| CALPOL-T | GLAXOSMITHKLINE |
| ACUVIN | ABBOTT |
| PROXYVON PLUS | WOCKHARDT |
| PT-325 | APEX |
| ULTRAM | MICRO LABS |
| DOLONAT | PFIZER |
| TRAMAZAC-P | ZYDUS CADILA |
| TRABEST | LUPIN LIMITED |
| URGENDOL-P | WIN MEDICARE |
| TRAZODAC-P | CADILA PHARMA |
| KINEDOL-EF | ERIS LIFESCIENCES |
| MEGA FLEXON | ARISTO PHARMA |
| DOMADOL PLUS | TORRENT PHARMA |
| ULTRAMOL | ARISTO PHARMA |
| ULTRA PLUS | ICON LIFESCIENCES |
| GUDRIL | INTAS PHARMA |
| TOLYDOL | IPCA LABS |
| ULTRAMED | PHARMED |
| ZYROTRAM-P | TROIKAA PHARMA |
| ULTRATAB | HELIOS |
| SUPERGIN FAST | MEDO PHARMA |
| ULTRAZAC | ZYDUS CADILA |
| TRAMADIN-PLUS | MANKIND |
| PMO-T | ALKEM |