25 Oct

How do I assess and treat benign prostatic hyperplasia

Studies reveal that outpatient office visits for BPH in Canada rose by over 50% in four years. 1 With these rising numbers has been a dramatic shift in the assessment and treatment of LUTS due to BPH. As a consequence, the initial management of BPH has shifted from the urologist to the family practitioner and other primary care physicians.2,3

BPH has been shown to be a progressive disease and BPH-related lower urinary tract symptoms (LUTS) are some of the most common causes for consultation in urologic clinics.4The severity of clinical symptoms, a decreased peak urinary flow, a prostate-specific antigen (PSA) level >1.5 ng/ml, and an increased prostate volume (>35 cc) has been identified as the best predictors of clinical progression.5

Behavioural recommendations, watchful waiting (WW), phytotherapy, alpha-blockers (ABs), muscarinic receptor antagonists, 5-alpha reductase inhibitors (5ARIs), and combination therapy are possible therapeutic options.6

Primary care physicians can play avital role in diagnosing and treating men with mild to moderate LUTS and no evidence of prostate cancer. They should use their clinical judgement when considering if and when a referral to a urologist is warranted.

Diagnosis

A "shared care" approach to the diagnosis and treatment of BPH should be adopted. Primary care physicians are better positioned to identify men with LUTS and those at risk for disease progression and should consider treatment for those men with mild to moderate symptoms without evidence of prostate cancer. In contrast, men with more severe symptoms requiring urgent or emergent treatment (surgery) should be seen by a urologist.7

The initial evaluation should also include a digital rectal examination and urinalysis. Men with hematuria should be evaluated for bladder cancer. A palpable nodule or induration of the prostate requires referral for assessment to rule out prostate cancer. For men with mild symptoms, watchful waiting with annual reassessment is appropriate.8

To identify a true case of BPH, medical history, symptoms assessment by IPSS questionnaire, and DRE and PSA measurement are diagnostic tests available for GPs that allow for a correct BPH diagnosis. Nevertheless, this requires not only the identification of the presence and severity of both storage and voiding symptoms but also the interpretation of changes in prostate volume and consistency by DRE. Although ultrasonography may help in determining prostate volume, it cannot assess changes in consistency. Most GPs have problems interpreting DRE results.9

Treatment

Alpha blockers improve symptoms relatively quickly. Although 5-alpha reductase inhibitors have a slower onset of action, they may decrease the prostate size and alter the disease course. Limited evidence shows that the herbal agents: saw palmetto extract, rye grass pollen extract, and pygeum relieve symptoms.8

Urologists and primary care physicians differ in their choice of therapy. Urologists prescribed 5-alpha-reductase inhibitors (5-ARIs), combination therapy with an alpha-blocker and 5-ARI, and an anticholinergic therapy significantly more often than primary care physicians. Primary care physicians, on the other hand, prescribed nonselective alpha-blockers more often than urologists.7

It is not apparent why these differences exist, but it is possible that primary care physicians view LUTS mostly as a quality of life (QOL) issue and are less concerned with the progressive nature of the disease.7 It could also be due to the fact that patients with similar symptoms but who are more bothered about them are referred along to a urology specialist for management.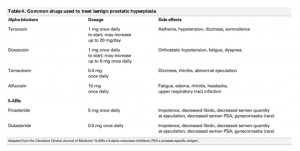 Updating physicians regarding changes in the management of BPH and progression is very important.A "shared care" approach has been proposed and should form an integral part of all future diagnostic and treatment guidelines for BPH.
Conclusion
Guidelines emphasize the importance of seeing patients in the early stages of BPH to start treatment earlier and thus prevent BPH/LUTS progression and worsening of symptoms, including acute urinary retention and, ultimately, surgery with consequent increases in healthcare cost.
A 2013 European survey highlighted the need for education in BPH diagnosis and underscored the role that general practitioners (GPs) can play in early detection and treatment of BPH.10
BPH Medicine Brands in India
More known brands:
| | |
| --- | --- |
| SILODAL | SUN* |
| SILOFAST | CIPLA |
| RAPILIF | IPCA LABS |
| SILDOO | DR REDDYS LABS |
| GERIPOD | ALEMBIC |
| SILOTIME | INTAS PHARMA* |
| SILOCAP | OVERSEAS |
| PROSTAGARD | ARISTO PHARMA* |
| MAXVOID | ALKEM* |
| ALPHACEPT | LUPIN LIMITED |
| SILORAP | HETERO HEALTHCARE* |
| SILOSMART | RPG LIFE SCIENCES |
| SILURI | EMCURE* |
| SILOMAX | LIVIDUS PHARMA |
| FLOSPURT | ZYDUS CADILA* |
| SILOTRIF | MSN LABS |
| URIEF | EISAI PHARMA |
References
IMS Canadian Disease and Therapeutic Index. Q4 (Dec MAT). 2004.
Naslund MJ et al, Int J Clin Pract2006;60:1609-15.
Miner M.. http://www.cornellurology.com/publications/mens_urologic_health_2_1.pdf. Accessed November 3, 2008.
Jacobsen SJ et al. J Urol. 1997;158(2):481-7.
Emberton M et al. Int J ClinPract. 2008;62(7):1076-86
Oelke M, Available at: http://www.uroweb.org/gls/pdf/13_Male_LUTS_LR.pdf. Accessed: 12 November 2013
Simon TanguayCanUrolAssoc J2009;3(3Suppl2):S92-100
JONATHAN L et al, Am Famhysician.2008 May 15;77(10):1403-1410.
Bernardino MiñanaLópez et al, EMJ SEPTEMBER 19, 2014
Montorsi F et al, Int J ClinPract 2013;67:114–9.