28 Jun

Is the Prescription still a Secret?

Many years back, way before digital and pharmaceutical brands met in India,  I was working on a communication plan for a latest generic me-too pharma brand. This brand was being launched by the company, knowing that there was a huge brand leader with almost 90% market share in the market. So much so, that the leading brand was almost a household name.

One would think that who in their right mind would want to compete against that right? But in pharma, things are a bit different. This is the situation one would want to capitalize on.

You see, the truth is that the doctor likes his prescription to have some sort of secrecy and mystery to it.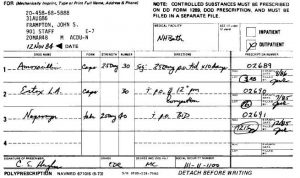 To elaborate on this, let's assume you go to a doctor, for a headache you have been having. The doctor examines you, and shuns it off saying its nothing, and writes a prescription for a common paracetamol brand, which is already with you in your medicine box.
You walk out of the clinic after paying his fees, and there are high chances that you are completely dissatisfied with his diagnosis.
Why?
You should be happy, right?
The headache was nothing to worry about and the cure costs nothing.
No.
In a doctors practice, this kind of behavior is detrimental to his growth, no matter how good the intention would be.
A doctor would, in most scenarios, look at you, ask you lots of questions, check not just you head, but also your eyes, mouth, stomach, pulse, and sometimes even do a blood test or advise an Xray, and sometimes a MRI/ CT Scan.
After that, if he sees that all these are negative, he will not prescribe a common household paracetamol brand. Even if he has to prescribe a paracetamol, he would prefer to write a brand, which is not so commonly known.
Now coming back to the brief that we were working on of the new brand launch.
The marketing team had given us a brief of playing on why doctors should maintain the secrecy of the prescription and how their new brand should be preferred as the brand was not a common name and yet was the same formulation, equally good in terms of quality and presentation, if not better, and coming from an equally good company too.
The campaign we wrote went like this….
Poor Boy.
Rich Girl.
Angry Father.
Rebel.
Elope.
Fight.
Win Hearts.
Happily ever after.
Some stories are so predictable!!!!
But Your prescription should not be.
That's why we are launching this brand.
The uncommon one.
Then we went on to talk about the quality, presentation, and credibility.
The creative team took this idea and developed many more.
Twin Brothers.
Lost in a Village Fair.
Grow Up.
Sing Song.
Unite.
Poor Boy.
Difficult Times.
Works Hard.
Becomes Rich.
Proves to the world.
Young lovers.
Villian's Plot.
Lovers Die.
Reincarnation.
Revenge.
This might sound crazy and silly, but at that time, this was a hit campaign and the brand sales soared.
The point I want to make is, in this digital era, where everyone is armed with smartphones and access to the internet data, can the prescription still stay a secret, and should it?
We believe not.
The rise in volumes of searches on prescription brand is growing day by day.
Doctors want to know more about molecules, and patients want to know more on the disease that the brand the doctor has prescribed.
The doctor expects now that the brand maintains a good online reputation because he is tired of patients coming back and counter checking the side effect profile of medicines when patients question him.
Pharma brands need to look beyond just in clinic promotions and traditional ways of marketing and information dissemination.
That's where we step in…
TheRxReviewer is a web directory of prescriptive brands that will help the medical fraternity access details about pharmaceutical brands and help get more information on the molecule or formulation, from authentic sources. The purpose of this site is to 'enhance the confidence of the prescription' by providing accurate, relevant, unbiased, objective medical facts. TheRxReviewer does not compare, endorse, advocate or rate brands. We strongly discourage substitution and self-medication.
If you manage a health or pharma brand, connect with us for a listing, write to us on contact@therxreciewer.com
And hey, feel free to share this article.
Because even this article, shouldn't be a secret.